Collette Liantonio is interviewed by Chicago3Media. To Listen to the taped recording click here.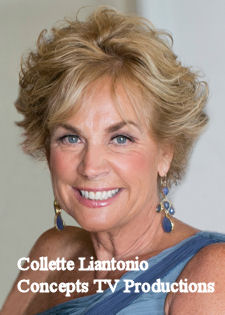 For over 30 years, Collette Liantonio and Concepts TV Productions have produced some of the best known infomercials for '"As Seen on TV" products.
From Pajama Jeans to Mr. Lid --- AmberVision Glasses to PedEgg and the George Forman Grill, Collette continues to produce short-form (2 minute) direct response spots. The Concepts TV spot for Finishing Touch is the longest running spot on television.
Concepts TV Productions is an award-winning full-service commercial/infomercial production company offering a complete range of video services. The talented team at Concepts TV specializes in many industries, including food, exercise, pets and pharmaceuticals.
Concepts TV has produced thousands of short-form commercials and has helped its clients achieve sales in the billions. The company was founded in 1983 by Collette Liantonio with the mission to innovatively market and sell products directly to the consumer through a direct response television (DRTV) model. Concepts TV prides itself on amazing demonstrations that become magic moments crucial in convincing consumers to purchase.
Of the hundreds of infomercials produced by Concepts TV, many have become DRTV '"legends." Some of the company's most famous spots include ads for Finishing Touch Elite, the Bedazzler, AmberVision Sunglasses, PedEgg, Hip Hop Abs, and Furniture Fix.
The entire Concepts TV staff of writers, producers, editors and animators focuses their utmost attention to each stage of production: a series of pre-production meetings will help formulate a winning marketing approach for a product. With the creative direction determined, the production team executes these strategies in order to provide a successful shoot. Then, the award-winning post-production crew will complete the compelling story.
Concepts TV has also worked with its clients to help them navigate the $630 billion Hispanic market with direct response commercials produced specifically for this target audience. In 1989, Concepts TV produced the V-Slicer, one of the very first infomercials for this market. Since that time, they have produced successful campaigns for products like Hydroxycut, Finishing Touch, Conair, Time Magazine, Jack LaLanne and Herbagesic for the segment.
Concepts TV can also can help with celebrity tie-ins. Whether a company needs a celebrity to endorse a product, a spokesperson for a trade show, or an expert demonstrator for an infomercial, Concepts TV is the agency with the best connections to exceptional television talent. The company will conduct auditions and talent searches to find the right talent for your television production or website. They have worked with a long list of celebrities including Montel Williams, Joe Namath, George Foreman, Fabio and Wayne Gretsky, among many others.
Concepts TV has won countless ERA Moxie Awards (recognizing the best DRTV campaigns of the year), Aurora Awards (international television advertisements), and Telly Awards (honoring the best television commercials and programs), among others.
Headquartered in Boonton, NJ, Concepts TV Productions also offers a complete range of infomercial web design and website development services. The company takes this task seriously because a traditional DRTV website can be up to three times more effective than a traditional corporate site. Concepts TV designs websites in conjunction with a direct response ad to present a clean, consistent look. Infomercial web designers work closely with the production team to develop a successful online solution that maximizes client sales.
http://conceptstv.com/wp-content/uploads/2020/01/logo-tagline.png
0
0
Rachel Leskanic
http://conceptstv.com/wp-content/uploads/2020/01/logo-tagline.png
Rachel Leskanic
2014-06-19 13:46:18
2014-06-19 13:46:18
Chicago3Media Interviews with Collette Liantonio