Concepts Climbs to Victory with Maxi Climber!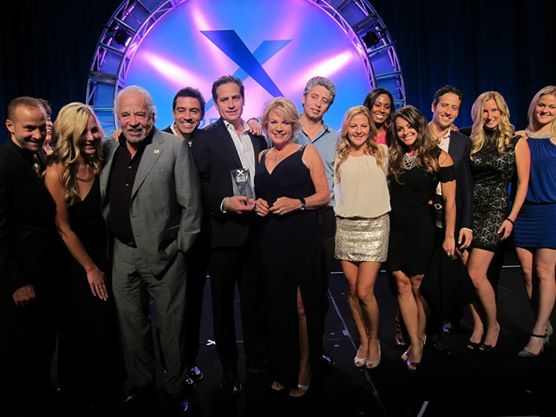 For Immediate Release:
Las Vegas, NV (October 14, 2014) It was a big night at the 2014 Moxie Awards for Concepts TV Productions, a New Jersey DRTV (Direct Response Television) agency. Not only did their President and Creative Director, Collette Liantonio, win the Lifetime Achievement Award, their company brought home the award for Best International DRTV Campaign for Maxi Climber.
'"We pride ourselves on developing uniquely creative concepts that lead to memorable TV moments," says Liantonio. '"We turn products into household names and create internationally recognized brands for our clients."
Concepts produced Maxi Climber for INOVA, a top marketing company in Mexico.
Maxi Climber encourages viewers around the world to climb to greater heights in their workout routines. Using the Gravity Vault (a rock climbing facility in Chatham, NJ) as the backdrop to the infomercial, Concepts creatively demonstrated how closely this revolutionary exercise machine emulates the actual sport.
'"Part of the thrill in producing a Fitness Long Form is making your product stand out," says Jim Nolan, VP and Senior Editor, Concepts TV. '"With INOVA, we came up with an amazing hook: Maxi Climber works the same muscles you use when rock climbing. This allowed us to style the infomercial with dynamic rock climbing visuals, including shooting on-site at a rock climbing facility and on location in California and South Beach, Miami for first time user reactions across the country. It makes Maxi Climber very memorable."
This winning creative combination of exercise and entertainment translated into international sales and artistic accolades. Packed with excitement and adventure, this infomercial truly rocked!
'"We strive for excellence with each and every spot," says Liantonio. '"Although it is so exciting to be recognized for creative achievement, we always make sure the product is really the star."
These awards will join the other 150 awards in Concepts' trophy case.
Concepts TV Productions, based in Boonton, N.J., is one of the world's most experienced producers of DRTV commercials and infomercials. Its direct marketing expertise has helped our clients achieve billions of dollars in sales. Many infomercials have become direct response television legends as a result of outstanding sales success.
# # #
CONTACT: Concepts TV Productions
Kristy Pinand
(973) 331-1500
http://conceptstv.com/wp-content/uploads/2020/01/logo-tagline.png
0
0
Rachel Leskanic
http://conceptstv.com/wp-content/uploads/2020/01/logo-tagline.png
Rachel Leskanic
2014-10-14 17:02:44
2014-10-14 17:02:44
Concepts Climbs to Victory with Maxi Climber on Patch.com!